special workshops
Next circus workshop event
TBA - Waiting for COVID-19 restrictions to be lifted.
Day off School means Circus Time! Activities include rolla bolla, slackline, stilt walking, aerial trapeze, lyra, sling and silks, Hula hooping, juggling and other flow arts.
Our circus professionals will support students in skill building and character building for performance.
Strong Bodies and Minds. Valuable Relationships. Quality Experiences.
Students will begin the day with some yoga, dance, tumbling and ninja art obstacles to warm up the body and wake up the mind.
Students will participate in juggling, flow arts, and partner acrobatics to build communication and cooperation skills.
Students will have the opportunity to try out 3-4 aerial apparatuses and select some to perform a creative work on.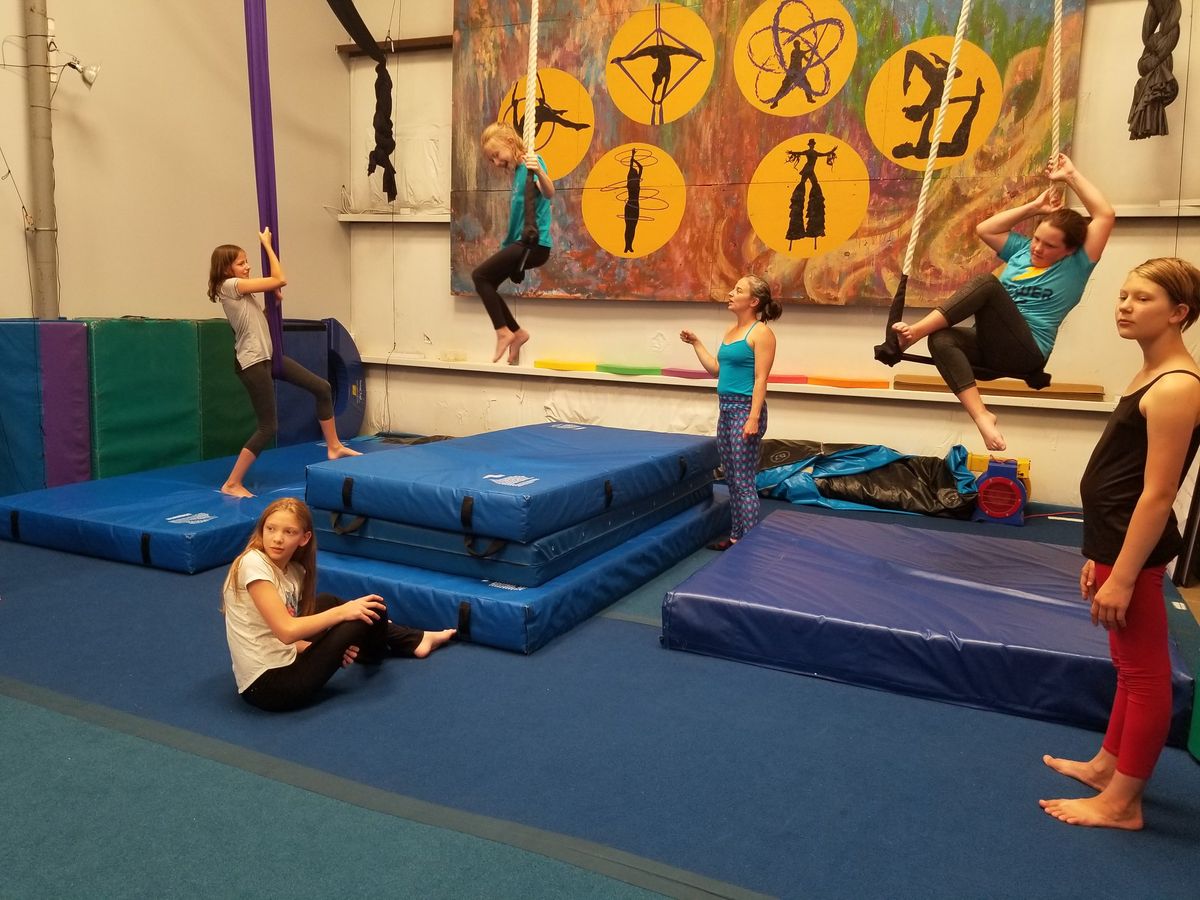 Ongoing classes
Spring Session: March 21st - May 29th
Summer Session 1: May 30th - June 24th
Summer Session 2: July 5th - August 13th
You can be assured that it is safe to return to our space! We have excellent air flow in our space Plus a new HEPA air filtration system. We have ONLY 7 Students per class with 6-8 feet in between apparatuses to meet social distancing needs. We have left 15 minutes in between classes to sanitize mats in between uses. Classes have been meticulously scheduled so that apparatuses have ample time to be sanitized. Masks will be worn by instructors. Hand sanitizer and soap is available for everyone's use.
Preschool dance and tumble – 18 months through 2 years of age will be accompanied by a parent/guardian for a 45 minute class to explore how to listen, learn, and interact with others. Movement skills include stretching, rhythmic dance, jumping, rolling, balancing and so much more! 2.5 – 5 year olds adventure out on their own with the instructor.
Open Bounce is on Friday mornings (discontinued until further notice) – Open play time in the gym with mats and a big bouncy house!
Aerial Preparation – For ages 5-8 years. Tumbling and dance exercises help develop strong bones and muscles required for any and all activities people want to participate in the rest of their lives. Get students prepared for aerial and acrobatics, too! Includes handstands, cartwheels, rolls, handsprings and aerial basics on all apparatuses.
9-11 years aerial acrobatics – We offer session based enrollment for students hoping to perform in our student showcases throughout the school year. New student enrollments to the sessions can be made up to the 5th week of each session (call or email to enroll with a pro rated fee). Registration will then be closed for performance preparation purposes.
T(w)EENS – Aerial acrobatic classes are for socializing, athletic conditioning, learning new skills and sharpening old, and getting creative. It is a FUN way to maintain fitness, psycho-emotional well being and healthy relationships. Teens may also join adult classes!
Kids Night Out!
Friday night open gym – Parents are welcome to drop off kids ages 5-12 years. Register on VAMP
Public event has been cancelled
Call us to book your private party!
Activities include aerial, dance, hooping, juggling, slackline, stilt walking, and watching a circus video. We will make popcorn and share stories about our circus personas.
Fort Collins Circus Center 2536 Midpoint Dr. Fort Collins, CO. 80521