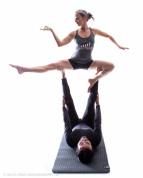 Aerialist, Acrobat, Dancer, Yogi, Master Teacher
Jessica "Super Jes" L Schultz has been an athlete all her life and has over 2 decades of teaching experience. Jes holds a bachelor of fine arts degree in Dance, a master of science degree in Sport Pedagogy, two CO. K-12 teaching licenses and a yoga teaching certificate.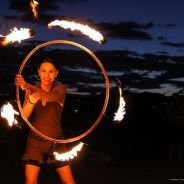 Flow Artist
"Lindy Spindy", Duchess of Circus Center Fort Collins, is an accomplished flow artist and circus enthusiast. Hula hoops are her specialty whether it be with multiple hoops, LED or fire! She also spins poi, fans, and juggles. Lindy teaches hula hooping and performs with circus troupes in northern Colorado.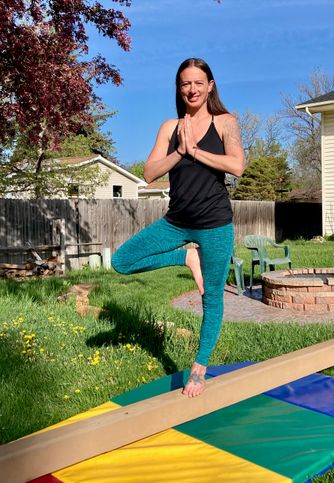 Dancer, Yogi, Gym teacher, Aerial coach
Angel Shuey is a Registered Yoga Teacher (RYT200) and a Registered Children's Yoga Teacher (RCYT) with Yoga Alliance. Her yoga journey started over 20 years ago after being a competitive gymnast and dancer. She has always loved movement and exercise along with mediation and relaxation. She has been teaching kids movement and gymnastics since the year 2000.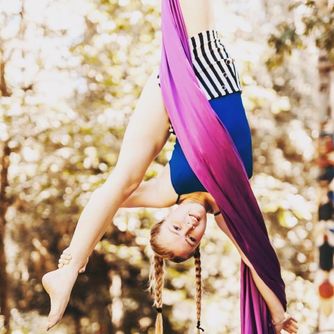 Aerialist, Music Teacher
Licensed in K-12 Music, Maddie recently moved to Colorado from Northern California. She has been doing aerial for seven years and has also taught music, art, dance, and all things circus! She is excited to play games, laugh, and strengthen aerial skills at FC3. When not upside down or playing with her dog, Maddie loves to travel, ride her bike, foster kittens, and paddle board.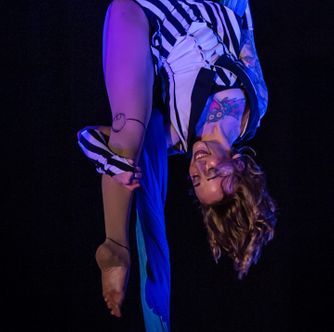 Aerialist, Performer, and Visual Artist
Julie Young has been training in the aerial arts since 2014, with a focus on aerial silks, but also enjoys trapeze, lyra, and aerial cube. She has been teaching aerial silks and dance/acting improv since 2019 starting in Indiana, then on the Big Island of Hawaii, and most recently relocated to Colorado to work with Fort Collins Circus Center. In addition to aerial apparatuses, Julie loves to perform and flow with LED and fire poi, flower sticks, acro yoga, and palm torches.
Outside of the circus and flow arts, Julie offers face painting and balloon twisting at fairs and birthday parties, creates original paintings on wood and canvas, and makes murals and custom artwork for clients across the country.
Circus performer, instructor
Dallin started training/performing when he was 13. In 2018, Dallin graduated from Milton high school, the only public high school in America with a cirque program. Upon graduating high school , he joined a company based out of Montreal, CA, called Haut Vol. Dallin has been coaching and training children and adults for 7 years. Dallin is confident in his ability to draw out the best in people and help them achieve their artistic endeavors.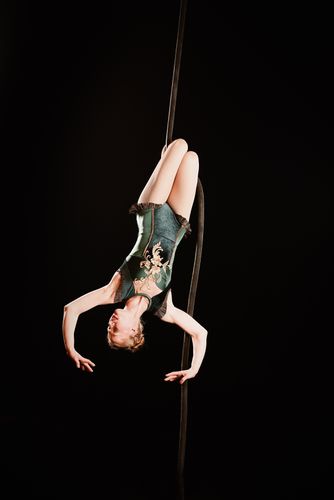 Aerialist, instructor, seamstress
Anastasia has been training since 2011 and has been performing since 2013. Anastasia enjoys all forms of aerial including rope, silks, sling, trapeze, invented apparatus, and sometimes lyra. She completed the Aerial Teacher Training Program in January of 2016 and since has been working as a coach to help others discover the joy of aerial and their potential to fly. She hopes that she can help achieve each student's individual goals, help them find their own artistic voice and influences, and hone their abilities.