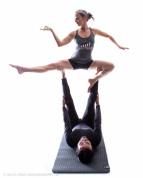 Aerialist, Acrobat, Dancer, Yogi, Master Teacher
Jessica "Super Jes" L Schultz has been an athlete all her life and has over 2 decades of teaching experience. Jes holds a bachelor of fine arts degree in Dance, a master of science degree in Sport Pedagogy, two CO. K-12 teaching licenses and a yoga teaching certificate.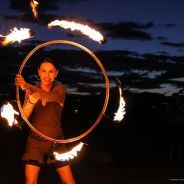 Flow Artist
"Lindy Spindy", Duchess of Circus Center Fort Collins, is an accomplished flow artist and circus enthusiast. Hula hoops are her specialty whether it be with multiple hoops, LED or fire! She also spins poi, fans, and juggles. Lindy teaches hula hooping and performs with circus troupes in northern Colorado.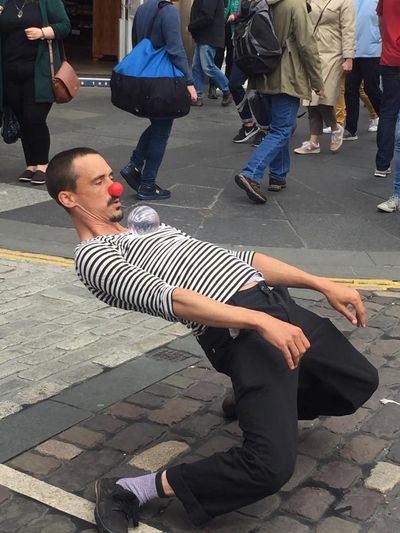 Blake has performed on streets and stages around the globe. Highlights include: Movement directing Mozart's La Finta Giardiniera at Juilliard; creating the original mime/butoh piece, The Infinite Bliss of the Hungry Ghost Realm in residency at DanceBox, in Kobe, Japan; performing on Cirque du Soleil's float in the Macy's Parade; developing clown material for Pagliacci at the Metropolitan Opera. He is a member of the award-winning Broken Box Mime Theater, selected for the prestigious Kitchen Sink residency at Theater Row in 2020. He co-wrote and directed Solitary, which premiered at the Edinburgh Fringe in 2019, an original devised piece staging the psychosocial effects of solitary confinement based on testimonials and interviews. He has been a physical theater instructor at the Neighborhood Playhouse and the American Academy of Dramatic Arts in New York. BFA: TSOA/ETW, completed two year professional program at L'Ecole Lecoq in Paris. www.blakehabermann.com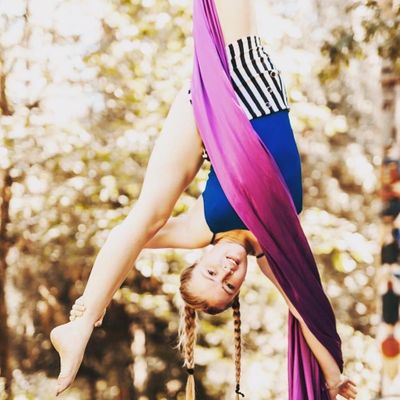 Aerialist, Music Teacher
Maddie recently moved to Colorado from Northern California. She has been doing aerial for seven years and has also taught music, art, dance, and all things circus! She is excited to play games, laugh, and strengthen aerial skills this summer. When not upside down or playing with her dog, Maddie loves to travel, ride her bike, foster kittens, and paddle board. She can't wait to hang out with everyone this summer!!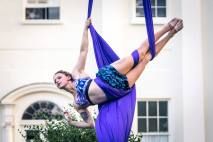 Aerialist, Dancer
Kim , aka "Kim Berley", is a Philadelphia native aerialist. She has been training in aerial arts for five years and teaching for two. While she specializes in trapeze and silks, she also trains and pays homage to lyra, sling and rope. She enjoys complex choreography incorporating multiple apparatus theories and showcasing strength and flexibility.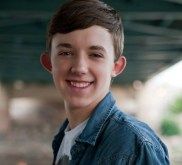 Aerialist, Contortionist
"Dazzling Drake" Bruner has been training in the aerial arts for over three years now. He is a decorated silks performer, winning the first Rocky Mountain Aerial Arts competition. He is also versed in contortion and more than seven other aerial apparatuses.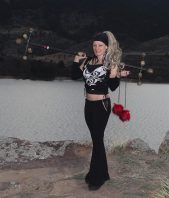 Flow Artist
Let Laurali Firefly enchant you at your next event! Laurali is a fully insured performance artist, performing professionally since 2006. She expresses herself with a wide range of modalities, including but not limited to fire dance, LED and other flow arts, and acrobatics with flow props. She spins many different tools, including fans, dragon staff, hula hoop (single and double), staff (singe and double), buugeng, poi, and more.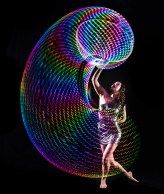 Flow Artist
Corinne is known throughout northern Colorado as Coco Hula Hoop Extraordinaire. She has been hula hooping since 2009 and can perform with up to 8 LED hula hoops or two fire hula hoops. She provides mesmerizing shows that will always impress guest and create a magical atmosphere.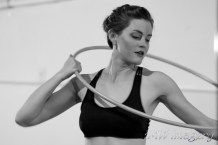 Flow Artist, Aerialist, Dancer
Krista Lockwood has a background in ballet, jazz, and burlesque dancing. She first picked up a hula hoop in 2011 and began performing publicly in 2015. She continues to expand her interests in flow and circus arts, including LED and fire performances at festivals, variety shows, and private events. She shares her passion for the circus community through collaborative choreography and performance.